Your Ergonomic Product Buying Guide
»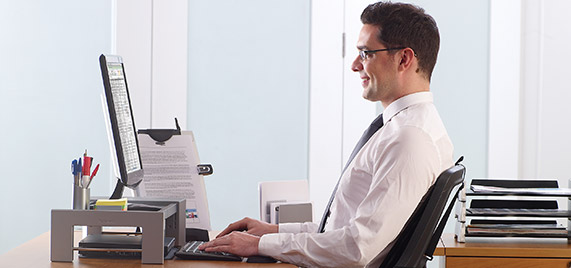 It's time to get your business working well.
This guide gives you details of the ergonomic products we have available and explains the benefits working smarter and safer will have on your business and the wellbeing of your team. An easy approach to understanding the ergonomic products you need called the 4 zone approach has been developed. Find out more by clicking on the sections below.
Employee Wellbeing
»
Employee Wellbeing. It's your responsibility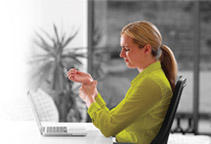 The topic of employee wellbeing has grown in popularity in recent years. Many organisations are recognising the increasing importance and benefits of wellbeing programmes and initiatives.
Not only is it a legal requirement to conduct a workstation assessment, it encourages employee engagement and demonstrates a duty of care for an organisation.
Act Today
Considering the amount of time your employees spend at their desk or working out of the office, how comfortable are you that your business is taking the necessary steps?
Providing a desk assessment and the correct ergonomic products for employees is just one simple and cost effective step you can take.
Product Introduction
»
Ergonomic accessories for the modern office
The best ergonomic products from the Health & Comfort range of workstation accessories have been carefully selected for you. From workstation organisation products to keep your desk tidy through to monitor risers and foot supports, you will find everything you need to keep your team working safer and smarter.
For wherever they work
It doesn't matter if someone is not based in the office permanently. With an increase in people working from home or multiple office locations, for these employees workstation assessments are just as important.
Mobile employees

The best ergonomic products for people on the move. These products are lightweight, portable, easy to assemble and convenient to use in a wide range of locations.

Permanents employees / personal desk

A proven range of ergonomic products for today's office environments.

Employees who use a hot desk

Not having a fixed desk or having to share doesn't mean you should neglect your health or hinder your productivity. These innovative products are hygienic, functional, sturdy, adaptable and easy to maintain for multiple users in a professional environment.
Zone 1: Prevent Back Tension
»

If your chair doesn't provide you with proper lumbar support, use a foot and back support together with a posture manager to maintain correct posture.
Zone 2: Avoid Wrist Pressure
»

As well as using a separate keyboard with a laptop, using wrist supports can help align your wrists, helping to redistribute painful pressure points, relieving pain and discomfort and preventing potential injury.
Zone 3: Relieve Neck Strain
»

Use a laptop or monitor support to position your screen at eye level. These products, help reduce shoulder, neck and eye strain by positioning monitor or laptop screens at a comfortable viewing height and angle.
Zone 4: Healthy Environment
»


Essential tools such as the computer, telephone and printer can significantly shrink the available workspace, making it difficult to create a flexible and ergonomic workspace. Using products such a machine organisers, keyboard managers and air purifiers can help you reclaim your desk and be more productive.